The work of the sculptor Takahashi, scrupulously recomposes small, shapeless marble fragments and makes them a single piece again, giving them the dignity of an object, thought, work, matter, idea. Putting scrupulous order between an inner and an outer, setting boundaries between lights and shadows, he is a revolutionary with respect to the school that formed him; a gentle rebel who creates charming, magical and highly coloured objects.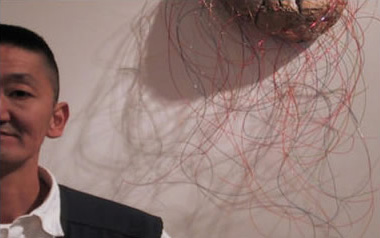 Biography
Born in 1957 in Kitagata, Gifu, Japan, he graduated with a degree in Sculpture from the University of Fine Arts in Tokyo Zokei in 1981 and finished a post-graduate course there in 1984. In 1989 he moved to Italy. He has lived and worked in Carrara since 1992.
Once in Italy he decided to radically change his personal artistic style to create a new dimension, a different approach to material.
The act of sculpting takes on an almost mythological value: Kenji smashes the marble and recomposes it, highlighting the signs of the re-composition; this is how his incredible sculptures of sewn marble come into being.
Nature, violated by man, finds new life in the work of the sculptor-demiurge who does not create matter, but gives it new form and order. For the seams, which are real sutures, he uses coloured nylon threads, as if to play down and mitigate the sense of re-composed pain and also to represent the multiple aspects of nature itself that the artist recreates in a smooth and rigorous geometric form (Cubone – Big Cube) or as a rough fragment of a celestial body resting precariously on the ground (Cubo Ruvido – Rough Cube
Exhibitions
Personal Exhibitions
1991 Galleria Dante, Erba, Como
1994 Banca Citifin, Milan
Galleria les Chances de l'Art, Bolzano
Galleria Les Chances de l'Art, Bolzano.
Atelier de Appelhaven, Hoorn, Holland

Atelier de Appelhaven,Hoorn, Holland

Galleria Gagliardi, San Gimignano

La Vinaccia, Carrara
2005 Artemisia, Massa
Galleria Gagliardi, Taormina
2006 Galleria Nicola Ricci Arte contemporanea, Pietrasanta
2007 Naufu Gallery, Gifu, Japan
2008 Hilde Holstein Gallery, Bremen, Germany
2013 Hotel Principe, Forte dei Marmi
Collective Exhibitions
1981-88 Kokuten Exhibition, Tokyo Metropolitan Museum, Japan
1988  Graphics exhibition, Chiostrino S. Eufemio, Como
 Exhibition of Contemporary Engraving, Sovico, Como
 Open Air Sculpture Exhibition, Caslino al Piano, Como

 Beauharnais Sculpture and Painting Exhibition, Pusiano, Como
Exhibition at the Accademia di Brera, Milan
Adriano Petrocchi Award, Castello Savelli, Rome
Young Artists of Miart 94, Studio d'Ars, Milan
Arte 94, Padova
Arte Fiera, Bologna
Stage design, Merano
Precious Work Show, Galleria 'L Group, Colonnata
Artissima, Turin
Art and Culture of the Land of the Rising Sun in the Apuan Alps, Galleria 'L Group, Colonnata
Ritomofisso, Galleria Atelier, Carrara
Pensierincorso, Fosidinovo
Sulmona '97 Award, Sulmona
Lain Art, Gent, Belgium
Antonella and Fabrizio Boggiano Collection, Galleria Rinaldo Rotta, Genova
Per Filo e Per Sogno, Galleria Artomato
Sulmona '98 Award, Sulmona
Miniartextil, Como
Il Cerchio, Italo-French Cultural Association, Bari
Arte Dove, Fosidinovo
Events '99, Selmoneta, Latina
Miniartextil, Como
Sulmona '99 Award, Sulmona
Sulmona 2000 Award, Sulmona
International Sculpture Exhibition, Albese con Cassano, Como
Miniartextil, Como
Sulmona 2001 Award, Sulmona
 16 Sculptors in Malcesine, Verona

Kaunas Art Biennial Textile '07, Mykolas Zilinskas Art Gallery, Lithuania

De migrante marmoris, Galleria Ars Apua, Carrara
2009 Japan Fantasy, Della Pina Arte Contemporanea, Pietrasanta
2010 Miyabi, Accademia di Belle Arti di Carrara, Carrara, Italy
Miyabi, Venanzo Crocetti Museum, Rome, Italy
2011 Sculpture and Woodcut Exhibition – Letter from Japan, Retorbido, Pavia.
2013 Two colors, Arianna Sartori Arte & Object Design, Mantova
Symposiums
1988  9th Symposium of Sculpture of Carrara, Carrara
 1st Symposium of Etching of Pognana Lario, Como
1999  10th Symposium of Sculpture of Nanto, Vicenza
13th Symposium of Sculpture of Carrara, Carrara
2006 3rd International Symposium of Sculpture of Amman, Jordan
6th International Symposium of Sculpture of Puerto del Rosario, Spain
2007 International Symposium of Sculpture of La Hague, France
3rd International Symposium of Sculpture of Comitan, Chiapas, Mexico
2008 International Symposium of Sculpture of Cerisy-la-Forêt, Manche, France
4th International Symposium of Sculpture of Amman, Jordan
Iksan International Stone Culture Project, Iksan, South Korea
2009 International Symposium of Sculpture of Damme, Germany