Giuseppe Tirelli was born in Tanzania in 1957, he lives and works in Piacenza where he attended the Institute of Fine Art "Gazzola" in the late 80's.
The artist started his artistic journey through a very personal research combining the characteristics of classical sculpture with contemporary atmospheres projected into a cybernetic future.
the great art critic Edward Lucie- Smith has placed Tirelli among the artists of "Italian neofigurative sculpture".
Tirelli works with important art galleries and his sculptures are appreciated also abroad: a lot of them have been bought by collectors who live in India, Brazil, the United States, Russia and Australia.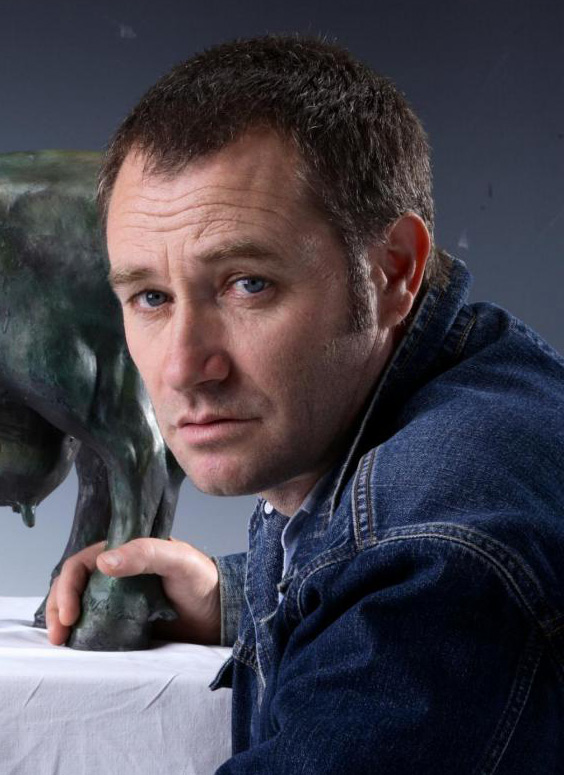 Biography
Puzzles and truth of an imaginary theater
"All the sounds that surround us
They make a lot less noise than ourselves.
The real noise is the echo that things have in us. "
James Joyce
The plastic research of Joseph Tirelli is widely pervaded by an aesthetic of classical order and some suggestions related to a more modern context. What still characterizes the work of this talented sculptor - one of the most skillful and original in the contemporary scene - is the aura that hermetic seals the enigmatic appearance of his subjects, intriguing protagonists of an imaginary theater, sometimes even visionary.
The baptismal fonts of a sculpture - its - often inhabited by the ancient myth should be sought in the great Hellenic tradition: the shining examples of Phidias, Myron and Praxiteles fact constitute, for Tirelli, a symbolic model beauty. Will tie in, among other things, the inspiration purism of a vital spirit, innervating the graceful elegance of sinuous forms and read: think, coming back with the mind to the Italian teaching, the high Donatello and especially Cellini until you find in Cupid and Psyche Canova aristocrat as concrete and seductive reference to an author, as Tirelli, constantly inspired.
The inspiration that he reveals in each of his works meets fertile grounds of expression in literature as in real life. But whatever is the slope in which Tirelli has chosen to emphasize its attention, to emerge are the usual characteristics: deep analytical excavation (Getting rid of prejudice), the silent intimacy (Ecstasy cybernetics); a latent irony destined to take a cynical tone when, to be represented, is the humiliating decline of certain behavior of modern man (Hephaestus throws the SUV off the cliff, Captain America has eaten too many burgers).
The poses, in this way, they gain meaningful efficacy: hidden disvelano illusions, the arrogant swagger of one who feels master of the world (The manufacturer of balls); conversely, however, even the shock and the anxious anticipation of those who watch the progress of such human degradation looking for themselves an unexpected salvation in that intimate exercise that is meditation (The boatman giant who loved the good wine, Girl with cat, precarious equilibria).
Tirelli rises to the role of witness, he explores archetypes buried in the unconscious, ancestral anxieties (Peter Pan 2). His imagination adds unprecedented events that closely concern figures indeed allusive (Don Quixote in Emilia), revealing an arcane world where, uncertain, swirl weakened sentiments. So, what he has the merit to realize, in that third dimension populated by invisible tremors, is a dreamy Truth (The thinker and the frog), in which myths, people and characters converge like in an ideal symposium and presenting possible existences also the most skeptical viewer (see the various versions of winged Figure drunk).
We should finally point out the fine consistency of technical Tirelli, its unique creative talent. In actuality, unfortunately, it marked by the painful absence of such qualities, comforts that still there is an artist so scrupulous and attentive to the orders which over the centuries have been handed down by the trade virtuous. Tirelli, with an air of exclusive and quality now rare, continue on the fascinating path indicated by his personal masters, now independent, in a varied art scene everywhere, who sees it legitimately shine as one of the greatest sculptors of our own.
Florence, June 2013 Giovanni Faccenda
Exhibitions
Solo exibition
1994 Amici dell'Arte Piacenza
1999 Galleria d'arte Rosso Tiziano Piacenza
2002 Personale presso Amici dell'arte Piacenza
2002 Galleria d'arte Alphacentauri Parma
2005 Galleria d'arte Rosso Tiziano
2005 Galleria d'arte Agorarte Brera Milano
2006 "Sculture sospese tra due mondi" presso Carimilo Milano
2007 "Estate contemporanea " Castello Anguissola Travo Rosso Tiziano
2009 "Big Bang " personale presso Fitzcarraldo Milano Agorarte
2010"Equilibri precari " Galleria delle Visioni Piacenza
2010 Personale Galleria Franco Senesi Positano
2013 " Racconti " Bobbio Piacenza
2014 Personale Palazzo Ghizzoni- Nasalli Rocca "Gli enigmi del tempo "
Galleria delle Visioni Piacenza
2014 "Angeli Ebbri " Castello di Momeliano ,Luretta
2015 "Contaminazioni Farnesiane ,angeli e cortigiane" Musei Civici di Palazzo Farnese Piacenza
2015"Il tempo ,il silenzio ,il racconto " Cà Cornera Rovigo
Mostre Collettive
1994 "Scultori a Piacenza"
1995 "Incontrarsi per Casa ,artisti a confronto " Milano
1998"Forme nel Tempo " Ente Fiera Piacenza
1998 " Borgonovo Arte " dieci scultori nella Rocca Borgonovo V.T.
1999"Nei laboratori dell'arte" Galleria d'Arte 15 Piacenza
2000"Figura : venti artisti al caffè " Reggio Emilia (Alberto Agazzani)
2000 "Figure celesti " Borgonovo VT presso la Rocca
2001 "Arte fare arte dire "chiesa di S.Maria della Pace Piacenza
2002 " Nei laboratori dell' Arte " Galleria d'arte moderna Ricci Oddi
2002 "Senza ragione" Alphacentauri Palazzo Pallavicini Parma
2002 "Corte delle Giara " Ravazzola Parma Alphacentauri
2003"Artenativa "Chiesa Sant'Agostino Piacenza
2003 "Il cappello d'autore " Sa Corona Arubbia Cagliari
2003" Museum" Expo Fiera Parma (Galleria 8,75)
2003"Come il Mar " Galleria 8,75 Reggio Emilia
2004Temple University di Roma galleria Il Polittico
2005 "Altre Figurazioni " Agorarte Milano
2005 "Chiaro e scuro " Flowers East Gallery Londra e IL Polittico
2005"Presente indicativo " Galleria Davigo Torino e IL POLITTICO
2006"Opere su Carta " Agorarte Milano
2006" Armodio e Tirelli in Comune " presso Palazzo Farnese Piacenza
2006 "Quindici anni " Scuderie Aldobrandini Frascati Roma Il Polittico
2006 Fiera dell'arte Montechiari BS galleria Nuovospazio
2006"G. Foppiani e gli artisti del Fantastico " Galleria Rosso Tiziano PC
2007 "The Art & artist of il Polittico" Naples (Miami )Florida Gallerie du
Gallerie du Soleil USA
2007 "Acqua " Galleria Forni Bologna
2007 "Acqua " Palazzo Ducale città di Pavullo Gall. Forni
2007 "Arteverona " Ente Fiera Verona galleria Immagine Milano
2007 "Scultura neofigurativa in Italia "Garage Bulgari IL POLITTICO
2007 "Triptyque" Angers Francia Galleria Forni Bo
2008 "Nouveau" Gallerie du soleil , Naples Florida USA
2008" Mi Art" Milano
2008" Artisti all'Isola D'Elba" Gall. Nuovospazio
2008"Visionaria "Galleria delle Visioni Lodi
2008 "Free and easy " Galleria Immagine Brera Milano
2009"Vir et Domina "Galleria delle Visioni Lodi
2009 "Arte Cremona " Nuovospazio Ente Fiera CR
2009 "Ritorno all'ordine " Galleria Immagine Brera Milano
2009"Evocazioni figurative "Castello Malaspina Bobbio PC
2009"Emozioni di settembre " Galleria delle Visioni Lodi
2009 "Immagina" Arte Fiera Reggio Emilia Galleria Franco Senesi
2010 "Il mare " Galleria Forni Bologna
2010"Artefiera " Reggio Emilia gall. Franco Senesi
2011 Padiglione dell'arte Forte dei Marmi Galleria Entroterra Bs
2011"Les Arbres " Galleria Forni Bologna
2011 "Legno, rame, bronzo …"Spazio Rosso Tiziano Piacenza
2011 "Arte sotto la luna " Galleria delle Visioni Piacenza
2011 Artefiera Padova Galleria Delle Visioni
2011 Padiglione Italia 54°Biennale di Venezia Sezione Milano Sala dei Re
2011 Padiglione Italia 54° Biennale di Venezia : "Lo stato dell'arte" sezione Torino a cura di Vittorio Sgarbi
2012 Arte Fiera Genova Galleria delle Visioni
2012 ARTEEXPO NEW YORK con Galleria Franco Senesi
2012 Esposizione "Artisti Italiani" presso MFF Galerie a Parigi
2012 Artefiera Piacenza con galleria delle Visioni .
2013 Galleria delle Visioni " Di bianco e d'inverno "
2013 "Sogni su tela " Galleria delle Visioni Piacenza
2013 "Il carattere delle forme " Comune di Rivergaro (pc)
2013 Esposizione Galleria Elena Gromova Mosca Russia
2013 "Opere esposte " Galleria Mazzoni Piacenza
2013 "Bocca di rosa " Galleria delle Visioni Piacenza
2013 Artefiera Piacenza con Galleria delle Visioni
2014 "Onirica " Galleria delle Visioni Piacenza
2014 " Piccole poesie su tela " Galleria delle Visioni Piacenza
2014 "Figurazione in Sant'Erasmo" spazio Sant'Erasmo Sestri Levante
2014 "Opere Visionarie a Parco Nuovo " Galleria delle Visioni
2014 ARTEEXPO New York Square Gallery di Franco Senesi
2014"Ordine e Caos " Galleria delle Visioni Piacenza
2014 "Opere esposte " Galleria Mazzoni Piacenza
2014 White Room , Franco Senesi Gallery Capri
2014 Artefiera Piacenza Galleria delle Visioni
2014 "Luci ed Ombre " Galleria delle Visioni Piacenza
2014 Franco Senesi Gallery Positano
2015 ARTEFIERA Cremona Galleria delle Visioni
2015 White Room Galleria di Franco Senesi Capri
2015 Liquid art System , Galleria di Franco Senesi Positano
2015 Scultura Italiana a Galleria Elena Gromova Mosca Russia
2015 Expo Internazionale "Tesori D'Italia "di Vittorio Sgarbi, "La scultura Mosaico" progetto di Laura Gavioli padiglione EATALY Milano
2015"Il cibo, nutrimento per corpo e spirito " Gruppo Strumentale Ciampi e Galleria delle Visioni chiesa di San Cristoforo Piacenza
2015 "Visioni erotiche"Galleria delle Visioni Piacenza
2016 ArteFiera Piacenza Galleria delle Visioni
2016 "ATMOSFERE " Galleria delle Visioni Piacenza