Lutfi Romhein è nato a Kraia, in Siria, il 22 settembre 1954.
Terminati i suoi studi, apre il proprio studio a Damasco, dove lavora con il legno e la pietra. In Siria e altri paesi stranieri ha realizzato numerose mostre, le quali hanno dato origine ad entusiasmo e interesse in persone quali artisti, giornalisti, critici e altri.
Nel 1981 si trasferisce a Carrara, in Italiua, per scolpire e studiare all'Accademia delle belle arti.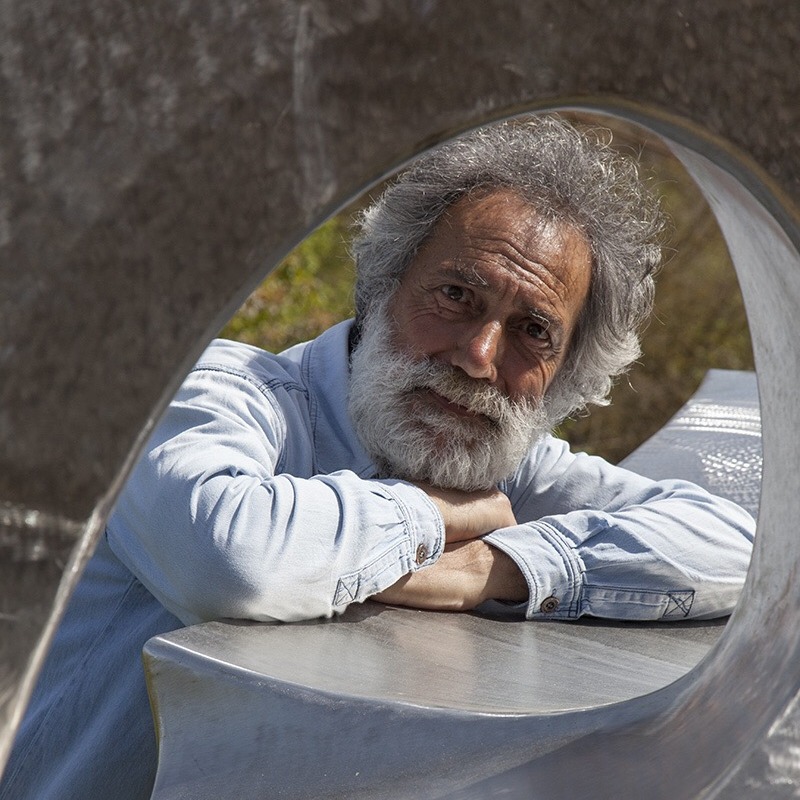 Biography
Lutfi Romhein was born in Kraia, Syria, on the 22nd of September 1954.
After his studies, he established his own studio in Damascus where he worked on stone and wood. He made several exhibitions in Syria and other foreign countries, which have created enthusiasm and interest in people amongst which there are the art experts, journalists, criticisers and others.
In 1981, he travelled to Carrara-Italy to sculpt and to study in the Fine Arts Academy.
Currently, he utilises his sculptural ingredients namely; stone, wood and metal to form miniatures and monumental. Nonetheless, his unique style of furniture is always maintained, and in this way he finds in his various achievements the beauty, the purity, and the sculptural strength.
Actually, working principally with Stainless steel material, he has achieved several monumentals sculptures; the last one , "SunShip" is exhibited in Hotel Meridien of Bahrein.
Exhibitions
PERSONALS EXHIBITIONS
1975 à 1979 : Five personals exhibitions in Syria
1980 : Gallery Matuzia Sanremo Italy – U.N.E.S.C.O Paris
1981 : Gallery Il Rondo Impéria Italy
1982 : Gallery Massa Italy
1983 : Centre culturel syrien Paris
1985 : Gallery Il rondo Impéria Italy
1986 : Gallery Al Said Damas Syria
1997 : Gallery Eishtar Damas Syria
1998 : Gallery Shoura Damas Syria
1999 : Marble Museum Carrara Italy
2000 : Gallery Ishtar Damas Syria
2001 : Gallery Shoura Damas Syria
2002 : Gallery Victoire Chatelet Paris
2003 : Grande Arche de la Défense
2004 : Gallery Shoura Damas Syria
2007 : Gallery du Portail – Levens- Nice
2009 : Gallery art House Damascus Syria
2010: Chapelle de l'observatoire – Draguignan
2010-2011 : Gallery Art House – Damascus- Syria
2013: Galerie Winston – Dinard – France
2015: Galerie 361 – Aix en Provence / Galerie Europia - Paris
SYMPOSIUMS
1986 : International sculpture symposium in VOIRON
1991 : International sculpture symposium in SAINT ETIENNE
1992 : International sculpture symposium in SARDAIGNE
1995 : International sculpture symposium in ATRI et MONTE D'ORO (Italie)
1998 : International sculpture symposium in PESCOCOSTANZA
1999 : International sculpture symposium in PESCHICI (Italie)
2000 : International sculpture symposium in DAMAS (Syrie)
2001 : International sculpture symposium in MONTBRISON (France)
2005 : International sculpture symposium in OS (Norvège)
2007 : International sculpture symposium in Os ( Norwey)
Principal collects private in France , Italy, Syria, Belgium, Switzerland, U.S.A, Canada
MONUMENTALS SCULPTURES
Permanent exhibition of sculptures in marble and wood in the national museum of Damascus and Amman (Jordania)
Permanent exhibition of marble sculpture in the cruis boat Costa Romantica
Permanent exhibition in Brusque City of the fontain « Manon des sources » 2002
Permanent exhibition of a monumental wood sculpture in the Hotel in Dubai 2004
Permanent exhibition in the Hotel delle Nazione in Roma – Italy- : Realisation and installation of 8 panels sculpted and fixed on the pillars of the hall – 2006
Permanent exhibition of sculptures in Art House Hotel in Damascus – Syria 2010-2011
Permanent exhibition of a monumental stone abstract sculpture in Washington USA 2010
Permanent exhibition of a monumental sculpture " Together" Marble and Granit in Downtown DUBAI 2010
Summer exhibition of monumental sculptures in Sainte Maxime near of Saint Tropez 2014
Permanent exhibition of the monumental sculpture Stainless Steel " Sunship" In Hotel Meridien BAHRAIN 2015
Sculpturals works permanently exhibited in GALLERIES:
Gallery Winston – Dinard – France
Gallery Reg'art – Sainte Maxime – France
Art House – Damascus- Austria –
Gallery Tajjalyat - Beyrouth