Artetotale particularly wanted him, not just because he is a profound and eclectic artist, but because his works allow the gallery to deal with the subject of truth in art and its social value.
Usama's art expresses great humanity which a mix of cultures, dating back thousands of years, and deposited in the intimate depths of his being, bring to the surface in the form of sculptures, canvases and compositions.
The decorations of the clothes of his Woman par excellence (Maria), while bringing to mind Christian iconographies, are developed with the harmony of kufic writing. His facing heads tell a different story every time, talking one moment of conflicts, the next of profound love. In his more recent works they are not blocked but turn and take on different expressions depending on the position; at times they are a man and a woman tenderly comforting each other, while at others they ignore each other and seem to say: "each to his own road". The faces drowned in the blocks of marble hardly ever mean the oppressed woman forced behind the veil and the heaviness of tradition; much more often they speak to us of Alnassar who withdraws into himself and protects himself from those who attribute other meanings to his art, which lives and is made concrete in the purity of the impulse from which it originates.
Alnassar is an eclectic artist; he sculpts wood, bronze and, of course, marble. His works reflect the condition of the migrant, from Syria to Europe, bringing with him a wealth of history and images. The recurring theme is meeting: between different people, societies and cultures.

Art and love are the instruments for overcoming barriers between individuals, the physical ones of geographical distance, and cultural and social ones which are an obstacle to dialogue and relations with the other person, the "different" one.

In his art Alnassar's aims to overcome these barriers so that "difference does not prevent us from meeting".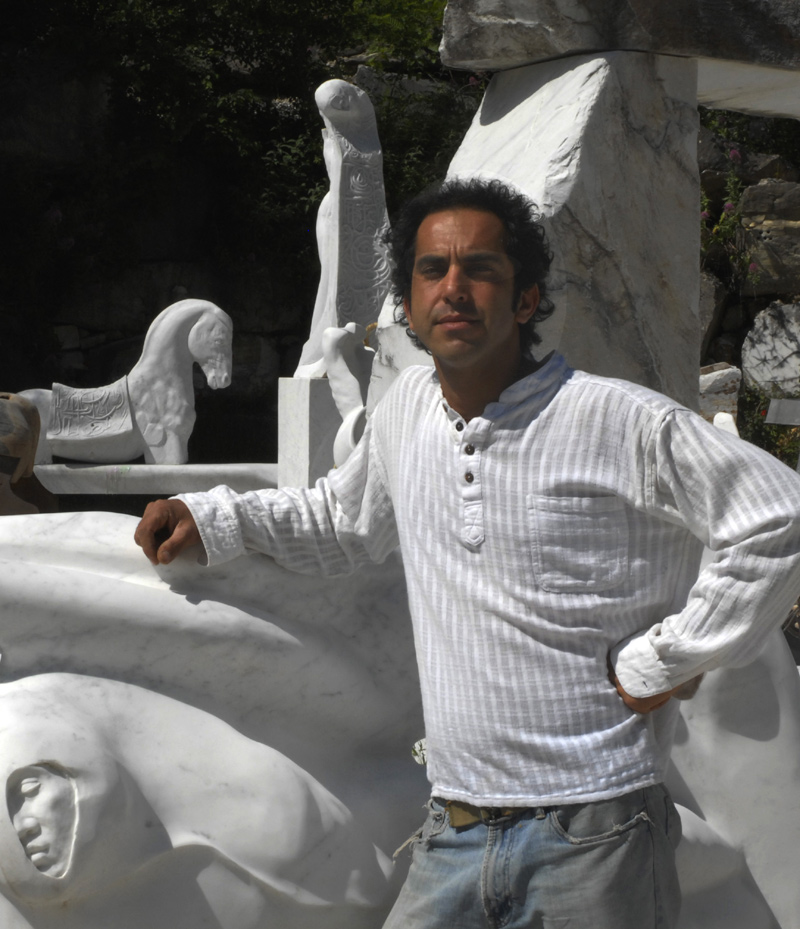 Biography
He was born in 1975 in Damascus, Syria.
He studied painting at the Fine Arts Academy of Damascus.
In 1997 he concluded his studies and began to teach in in private art institutes in Damascus.
In 1999 Alnassar moved to Carrara, Italy, to study sculpture at the Accademia di Belle Arti.
In 2006 he concluded his studies at the Carrara academy.
The artist has taken part in international symposiums and art exhibitions in Norway, Germany, Italy, Syria, Florida and Scotland.
In 2004 he opened his studio among the marble quarries of Carrara.
He has worked on public sculptures in marble and stone and has taken part in the organisation of international symposiums.
He teaches painting and sculpture in his studio in Italy and also abroad.
Alnassar was born in Damascus in 1975 into a Christian family with an artistic tradition - his maternal uncles are famous sculptors. He graduated from the Academy of Fine Arts of Damascus and in 1999 came to Italy to complete his training at the Academy of Carrara. He will never return to Syria. Like many sculptors before him, he chose the Apuan Alps as the ideal place to work and develop his artistic talent.

His laboratory is at the foot of the Cave Michelangelo quarry. A magic place, immersed in evocative countryside. Here he has also built an amphitheatre carved into the marble where he organises concerts, performances and other artistic events. In his open-air studio he holds sculpture courses, the constant success of which calls students from all over the world.
Exhibitions
1999 PERSONAL, ACCADEMIA DI BELLE ARTI DI CARRARA, ITALY

2000 "DAY OF ART" CONTEMPORARY ART FAIR, ITALY

2000 TOWN HALL OF IMPERIA

2001 "BIENNIAL" , ACCADEMIA DI BELLE ARTI DI CARRARA, ITALY

2001 TOWN HALL OF CARRARA

2002 PERSONAL, MUSEO DEL MARMO, CARRARA

2002 PERSONAL, "FUGLFONIX" GALLERY, ETNE, NORWAY

2003 EXHIBITIONS AT THE MIUR UNIVERSITY CENTRE, ROME

2003 "NANTO PIETRO" INTERNATIONAL SYMPOSIUM IN STONE, VICENZA, ITALY

2003 INTERNATIONAL SYMPOSIUM IN MARBLE, OS, NORWAY

2004 "THE ROYAL INSTITUTE KELLY GALLERY" EXHIBITION, GLASGOW, SCOTLAND

2004 SYMPOSIUM OF SCULPTURE IN WUNSIEDEL, GERMANY

2004 "EASTERN MARBLE AND WESTERN MARBLE" EXHIBITION, MILAN, ITALY

2005 "KULTURUTVIKLING ASSOCIATION" EXHIBITION, OS, NORWAY

2005 INTERNATIONAL SYMPOSIUM IN MARBLE, OS, NORWAY

2007 STÒA GALLERY IN HOLMSBU, NORWAY

2007 COLLECTIVE IN THE "DU SOLEI" GALLERY, NAPLES, FLORIDA

2008 FIRST INTERNATIONAL PAINTING SYMPOSIUM , DAMASCUS, SYRIA

2008 PAINTING EXHIBITION IN THE NATIONAL MUSEUM OF DAMASCUS, SYRIA

2009 SCULPTURE EXHIBITION AT EIDE, QUARRIES OF NASS, NORWAY

2009 "GRAVITY", ATHENE GALLERY, DRAMMEN, NORWAY
2010 "ARTSCAPE" INTERNATIONAL BIENNIAL OF SCULPTURE, BYRON BAY, AUSTRALIA
2010 "RETROSPECT GALLERIES" COLLECTIVE, BYRON BAY, AUSTRALIA
2012 "AUSTEVOLL INTERNATIONAL SYMPOSIUM OF ART", AUSTEVOLL, NORWAY
2012 "ALNASSAR MESSAGES", ATHENE GALLERY, DRAMMEN, NORWAY
2013 "corpi silenziosi" (silent bodies), LA STANZA DEL VENTO, MONTEMARCELLO, ITALY
2014 "AUSTEVOLL INTERNATIONAL SYMPOSIUM OF ART", AUSTEVOLL, NORVEGIA.